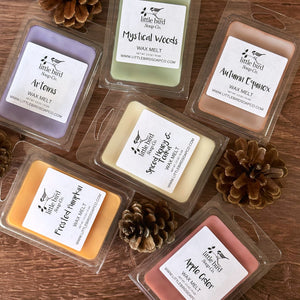 Little Bird Soap Co.
Fall Wax Melt Bundle
Regular price
$25.00
$0.00
Unit price
per
Make your house smell like an autumnal paradise with this selection of fall-themed wax melts!
Save $5 when buying this bundle of 6 individual 2.5 oz packs - All fragrances used are phthalate free and the wax used is a soy and paraffin wax blend. These are also available separately here.
Spiced Honey & Tonka - Notes of honey, amber, tonka bean, bergamot, coriander and dark musk.
Artemis - Notes of lavender, violet, vanilla, greenery, musk and cedarwood.
Frosted Pumpkin - Notes of pumpkin, nutmeg, ginger, maple sugar, vanilla frosting and lemon.
Apple Cider - Notes of red apples, nectar, berries, orange, cinnamon, amber and musk. 
Mystical Woods - Notes of honey, sandalwood, amber, patchouli and bergamot.
Autumn Equinox - Notes of hay, beeswax, mint, chamomile, grass, herbs, oak, oakmoss and cinnamon.
---